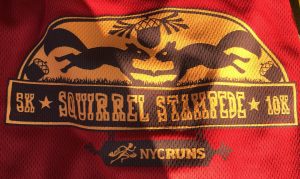 and why do the organizers of NYCRuns know this?
Today was NYCRuns' Squirrel Stampede and Roosevelt Island is a gorgeous place to run. We chose the 10K as it seemed to be more of a challenge. And I won't lie, because it started later. As the weather grew more and more unseasonable I began to regret that decision. We had an out to switch to 5K by end of day Thursday but we opted not to. 5K didn't seem worth trekking out to Roosevelt Island for and we wanted the challenge of the 10K.
The morning dawned hot but not unbearably and we arrived early. It was definitely easier to enjoy this pre-race festival than the freezing frozen penguin as it was breezier in the middle of the East River.  The run was sponsored by the Office of Emergency management so the grab bags were quite useful especially in light of the recent storms and upcoming Hurricane Sandy anniversary. Toward the end of the festival though I was antsy to just get started. I was worried about the heat's impact and just wanted it to be underway.
We soon were underway and Beth and I settled into a comfortable pace. Seeing the four mile marker before we hit mile one was just ooph, it reminded me of how far this course was and just how long Roosevelt Island is.  The volunteers were good and encouraging. The first mile and a half or so of the course on the western side of the island and was shaded, lovely. When we turned back south after the lighthouse we were right in the sun, and that was draining.
Somewhere between miles two and three a human hummingbird flew past us and I was glad to see that he won because otherwise it would have been way too demoralizing. I think it may have been the only time we were lapped, or at least it was noticeable due to the speed he went by us. At the halfway point, we were doing well. 37/8 or so, and I was pleased with that. Although I had to stop to stretch hip a handful of times, it was feeling good and my ankle was fine.
Around mile five and a bit I had a weird feeling of goose bumps a good mile or so after I'd last poured water over my head so I decided to walk a little. I think it was probably psychosomatic rather than an actual heat reaction, but I've been trying to listen to my body. I think that decision to walk a little was what helped me finish, because there were some moments I wasn't sure I was going to make it. It wasn't dangerously hot or anything, but 83 and 50%+ humidity wasn't comfortable running. I'm OK now and have been drinking a ton all afternoon.
About halfway between miles five and six we started back up and ran through to the end. I was struggling but seeing the finish festival as we squirted around it helped, although being so close also sucks.
I don't believe the ascent. Roosevelt Island is fairly flat. But this is pretty indicative of how I felt. We were solid until I hit a wall. Even the June 10K wasn't this warm and this was definitely my warmest next to the Hope4Warriors flop, which was only a 5K. Definitely learning moment for next summer.
So I walk part of a mile… and I PR by six minutes!?! Hello more solid base that I hoped would show up. The 5K was really good. The second 5K? Well it wasn't horrible. It's hard to truly call this a PR since it doesn't have the hills that June or March did but I'm really looking forward to the Poland Spring 5M to see how I do when it's (hopefully) cooler. The time to beat is 1:06:06. And yeah, if you asked me a year ago if I was excited to run five miles I'd have said you were insane. Now? Well I crossed 300 miles run on the year 😮
I'm sticking by my watch times, by the way since it's what I've always used and more accurately accounts for the distance covered with some wiggling. It's still interesting to look at my NYCRuns time and history against one another.
Dead last in my age group. Oh well, room to improve.
I said in a running group post on Facebook that I didn't have the race I wanted, but I had the sensible run given the heat. I think that's still true. A PR is wonderful.  Listening to my body is smart.  I still hate running in the heat, and really hope October cooler, but I look forward to 2018 growth in weather races.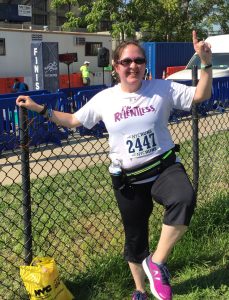 Meanwhile? I'm having fun!