I'm still trying to work out the balance between routine and rest. I'm pretty sure that's going to be a thing forever, and I'm OK with that. As I briefly mentioned the other day, hills and weekend long runs are a challenge at the moment, although not an impossible one. The more pressing one to me at the moment is having the oomph to do 4.5 miles after an already long day at work. It's not a running endurance issue, so much as an I'm tired one.  So while I'd like to power through, I'm also open to other ideas. Solutions this weekend and last? Runs on Saturday and Sunday.
Before I get into the details on those workouts, just wanted to share this, which happened this weekend
WOW! 382+ miles of that are running, but even without that, wow.
Saturday dawned bright and brisk, though thankfully not as brisk as Friday evening's 18F windchill. I would still have much preferred to stay in bed but yay for the accountability of meeting a friend. I'd tried to lay out my clothes the night before as I knew I wouldn't want to get out of bed before I needed to. Those tights, like the others I own, are designed for tall people, but hey built in socks. Ended up free lancing as the wind breaker didn't quite work so final tally was:
I got to the top of Cat Hill just a few minutes late. And by got, I mean ran because of course I was running late. I don't track those as the lights mess it up, but it's nice to know I can pseudo run commute when needed. We tend to do laps of the 1.66 mile bridle path loop with a start at Engineers Gate and an end where/when we feel it was right. Luckily as we kept moving and zigged-zagged into the sun we found the weather wasn't as bad (I swear the hot air from incessantly discussing it warms it up) and we were both feeling good.
We called it at six miles and I was pleasantly surprised that it was roughly consistent with last week despite starting off more slowly.
No idea where mile four came from.  When the watch indicated it we looked at one another befuddled. I love the setting that buzzes on miles. Way more useful. The ascent is absolute nonsense. There is an incline, but nothing that significant. Most surprising? Despite the weather this felt "easy". Maybe there's something to running a distance consistently? It happened in June with the 5K distance, but part of me still felt like that was a fluke. But it's happening again. Weird, but I'll take it.
Despite the cold, we did a walking cool down lap-ish while I gave this one a go.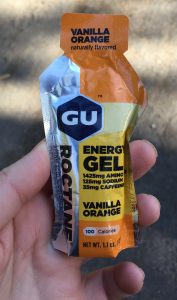 Verdict? No. Stomach, fine. But it tasted like chemicals. It also wasn't worth the extra dollar that Rocktane commands. After a Starbucks run we hit the Upper West Side JackRabbit and I got the energy gum. They have a much larger cross section of gels than the East Side does, but I was too cold/tired to shop. So cold/tired that rather than walking to 86th or even 79th, I hopped on the 1. Yes, I have an unlimited metrocard. I realized when I got upstairs I'd be just shy of 30K steps on the day, but I didn't want it badly enough to go back out. Long, hot shower and couch called my name. It was good for a re-charge.
So what was the second part of my weekend slate? Finally trying Mile High Run Club, which I first learned of the night before the Women's 10K. I immediately filed it away as not for me, as like the HuffPo writer, I was intimidated. I also thought it was for runners at a way higher level than I was. Still, I was intrigued. A friend mentioned it over lunch over the summer and I waved her off as still out of my reach. Like a good friend, she didn't push. As I continued to train, it re-entered my brain. Reading run blogs was part of that as CuckooLemon is a fan, Peanut Butter wasn't and others are mixed.
Feeling more confident in my runs of late and reading this post, which really sold me on why it was worth trying, I pinged my friend and asked which class she recommended and would she go with me. She was happy to and recommended the High45, with a series of instructors who offered it/she preferred. The class is described as:
HIGH 45 is the bridge between our DASH 28 and DISTANCE class. Expect to cover between 3 and 5+ miles in this treadmill only interval-based 45-minute endurance class.
We landed on NoMAD as that's her home base and Sunday morning, because both of our schedules suck. Despite some registration challenges due to their new system, it was smooth to sign up for the $18 trial and check/in arrival was nice. The locker room was super clean and well-stocked (may be a first thing in the morning thing) and post-class it was easy to get a shower. I like that the lockers have the built-in locks so you can haul one less thing.
I was nervous but found Rich V. welcoming without hovering too much. He set me up with the basics I needed, such as how to adjust speed and that 1.0 was "flat" in MHRC parlance. As others have mentioned, it's a go your own with some suggested levels for joggers v. racers. That was particularly helpful to me as I still haven't figured out my target paces, although I'm getting there.
I like how the class ran, both the mix of the instructor talking and not as well as how he outlined what was to come. It was very helpful to mentally plan for the intervals. I was nervous when he first mentioned an 8.0 incline but I figured I do what I could. 50by25 has a really good breakdown of the different intervals if you're curious.
Absent some noodling around to identify what my personal levels 1/2/3 (and sub levels)/4 were, I didn't have to downgrade my speed at all and kept up with the time intervals for both incline and speed.  Key I think was slowing it more than I normally do on my intervals and being a little conservative when it came to my level 3 speeds. I took it above 6.0 twice and finished the all out sprint at a 9:30 pace (6.3) which I think is my best ever. And I could have gone faster, I think. Definitely room to grow and I finished feeling strong. That made me happy.
If I wanted proof of progress on the year. Even conservative-ish, that's nearly a mile more in 40 seconds fewer than my penguin day. Wow
Other thoughts:
Pros:
The change from hills to speed intervals made the 45 minutes go lightning quick. When I looked at the treadmill display at one moment, I couldn't believe 20 minutes had passed. Way more fun than grinding out 4.5 miles after work, but I wonder if that was also a factor of being fresher.
The darkly lit room made it easy to ignore the watch and what others were doing. Also let me fade into obscurity, which is my preference in classes.
Being in the middle row was perfect – enough space to look around without getting distracted by everyone else's machines. Not too close to the mirror. Beyond the basics (nothing hurt), I didn't worry too much about form as that's too much multi-tasking for me.
Soundtrack was awesome, mix of genres and time periods.
Well stocked and since instructor is just coaching and not running, he was able to do little things like help on the fly, retrieve a dropped towel.
Cons:
Not really convenient, and it's expensive. But there's Classpass, monthly passes (if I really get into it) and it isn't that inconvenient.
I want to do one again. I don't think I'm yet at the level of The Distance, but I think High45 is perfect as I don't have much interest in the kettle bell part, which seems to get mixed to poor reviews. I'll see how it works schedule wise.
No gel report, I forgot to bring it into the studio (and forgot my water at home) and then we decided to go for brunch. Scrambled eggs & avocado on toast > any gel.
Instead of rowing tomorrow, taking day off off to rest after ten miles in two days. Hoping it's warm enough to walk home.
More to come.