This was a weird week.
Monday I went to the gym figuring I might have something in my legs despite going two days in a row since Saturday's run was way below where it should have been. Nope. Couldn't even get .05 miles so I took a cross train day and did a mile on the elliptical and 2K row. Not ideal, but it worked. I was subsequently off from the gym on Tuesday and Wednesday due to evening commitments. Tuesday was completely off at sub 8K steps as it was too cold to walk home. I am so over winter.
Thursday I was antsy and curious how my legs would respond after Monday. They felt fresh and good. I briefly went PR chasing, but ended up having fun with numbers, despite Strava recording issues.  I went at 5.6 until 2.63 where I went to 5.7 before my habitual 6.2 flying sprint to close out. I don't think I'm quite at 5.7 for length, but I'm getting there. I really need to get back to Mile High Run Club and speed sessions. The knee is fine, I'm just afraid of it not being fine ahead of Brooklyn.
Strava must have been mad at me for yelling at it, because Saturday was a complete tech fail despite the beautiful weather. The plan called for ~9-10 and the run started well, but I was struggling on the West Side Rollers between miles one and two. I just felt gassed. I already knew as I came around the bottom of the Park that 9 wasn't happening and I think Cat Hill was worse because I had already decided it was going to be. My left achilles was twinging and I felt itchy, although I didn't know why at first.  (Anyone want a handful of mint chocolate Gu? It clearly doesn't like me. The first time I thought I was having a heat reaction, but twice? Nope, something in it & I don't get along. So I dipped out of the park at ~5 and got to six miles by headed home. It wasn't the run I wanted, but it felt decent. I got home and no matter what, the run wouldn't sync. Some googling tells me this is an occasional thing with the TomTom wherein it clears off the watch because the watch thinks it's transferred, but never makes it to the app. Oh well. No splits, but at least I had the overall.
The plan for today was to make up yesterday's missing miles. I didn't have an exact plan, but knew I ultimately needed to get to Pier 97 so I decided to take the M79 across and run north for a mile to make it a ~three mile run. I got this wonderful sight at about the turnaround. So many shades of pink and white like the first time I did the Great Saunter. It's just nature's canvas. Other than Frozen Penguin, I never really run Riverside, so this was a nice treat.
Although it was busy, it wasn't crowded so I wasn't playing too big a game of dodg'em and my legs had some speed in them. After mile two, I thought I might be chasing a PR.  I missed it by 30 seconds, but was still wowed by this run especially coming off six yesterday. And those splits! Almost my first fully negative splits. I don't think breaking 30 is going to happen in June like I hoped,  but I'm going to break 32m if it kills me. 32:15 is my PR and I think I'm getting there. What surprised me the most about this run was it was about the 5.6 I ran Thursday but without a treadmill forcing it. It just felt right.
How to keep people from running too close? Look like this. The reason I needed to get to Pier 97 was for Holi, put on by a group we're working with. I'd never been before, but really enjoyed it. From there I caught the bus to the southwest corner of Central Park and decided to run home as it was getting slightly chilly. Although I didn't have much phone battery left, I wanted to get some cherry blossoms so I headed off in the general direction of Cherry Hill.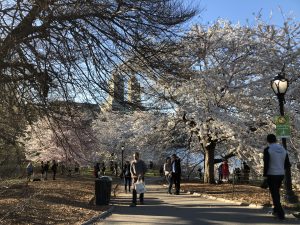 Central Park was packed and this was very much a game of dodg'em, so I knew this woudn't be for time. At Conservatory Water, I took a break and went up Pilgrim Hill for some of my favorite blossoms. So magically sun-kissed.As my phone died there, I nipped home to try and lose some of the purple. Ended up with six miles, when I only meant three catch up. Although yesterday wasn't the long run it was meant to be, I got more miles in, since if I'd done 9 I wouldn't have run today, so win? It's a good thing I didn't much like that shirt anyway, it's never coming clean.
Overall, mixed bag but I'm happy with these two long-ish run days to close out the week. Definitely happy with two back to back at distance even if Sunday's miles were in three parts. I'm not 100% sure I'm ready for Brooklyn especially with travel ahead of it, but I feel good. Plan for next Saturday is Mile High's outdoor long run, so we'll see.  Tomorrow is definitely an off day and as soon as I hit post, I'm having some QT with my foam roller as my quads are cranky. ETA Monday morning: not too sore, other than knees going downstairs. Foam magic
Linking up with Wendy at her invitation and HoHo, whose blog looks amazing. And for the readers, Wendy posted her review of Deena Kastor's book. That was supposed to happen this week for me, but Running the Smoke cut the queue in honor of today's London marathon, so I'm behind.