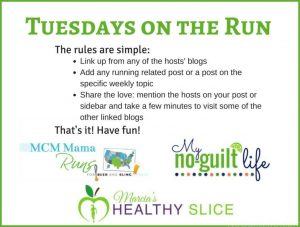 How Running Changed Me: perhaps the biggest way it changed me is that I truly enjoy the gym.
Linking up with: Erika at MCM Mama, Marcia at Marcia's Healthy Slice, and Patty at No Guilt Life. And if anyone in the linkup knows where to find the prompts ahead of time, I'd love the link. I was lucky with this one, I spotted Darlene's preview. ETA: Upcoming topics here.
When my gym closed to the public last summer, I knew I needed to find another perfect gym because I really wanted to keep up the running. When I look back at the pros and cons I identified almost exactly a year later, they still hold true. I want running to be a part of my daily life, and it is. That was never true of the gym before. I didn't mind going, but didn't exactly look forward to it, if that makes sense. There have been many times over the last year and a half that I was antsy for a run later in the day or wished I was running. I just printed out my gym visits for March – August and I'm at 64. Well above the 50 threshold which I used to have to stretch to get. When I look back at February's claim, that was 63. A for consistency!
Running is my therapy is an oft-used cliché, but for me it's personally true. I love that time & space after work or before morning meetings to decompress.  While I do listen to music, I also use the time to think. This was especially helpful last December during our busy time. While my training wasn't what I wanted it to be, I got there and I think the running helped me get through the really long hours that our fundraiser entails.
Running is my happy hour also fits me perfectly. I mostly don't drink** (zero tolerance, never really found a drink I thought was worth the calories), and even in our thirties so many events still revolve around happy hours and drinks. Running has enabled me to meet some fun people in different situations: a beginners' run group that has mostly faded away but through which I met some fun folks; our office Thursday run group; the folks at Team MHRC; the Run the Year community; and of course all of you. Hoping to meet more of you "live" in the coming months and years. Running has also allowed me to connect with friends and colleagues in different ways. I had no idea they were runners, or knew but we didn't have that to talk about because I wasn't. ** That said, if you're buying me a drink, I do love a frozen margarita. Extra salt.
Running has also made me truly understand food as fuel. I learned early on that what I ate truly impacted how I felt when I ran and have tried to fine tune that over the last year. I've also learned that eating better in general makes me feel better. Is it perfect? No. Monday's run was a hot mess after a salad, but I wanted both a run and a salad. While running isn't about weight loss, I've found that maintaining the loss is easier with running than other forms of exercise and I do think I'll eventually get through this plateau.
Running has brought out the girly girl in me. I'm generally not a fan of pink. I don't wear makeup and currently have 2-3 inch grey roots out of an agreement with my doctor to see if 22 years of dye is causing hair loss.  I prefer flat sandals to heels and dresses? Well I've worn one twice this year which might be a record. Running? All bets are off. I even ran in a skirt although that particular one is out of rotation as its shorts ride up like crazy.
Running has taught me that my body is in some ways a machine. Maybe not yet an efficient one, but it can do so much more than I ever anticipated, which I touched on after my second half marathon. And yes, that still sounds insane to say. I know I'll never be skinny, and running has taught me to accept that. I may not be athletic-I'm not putting myself down, I'm just not good at sports-but I have an athlete's body. I am an athlete. I am a runner.
I think I have a lot more to learn from running, but really appreciate what it has taught me in the last eighteen months.
Looking forward to reading your stories.