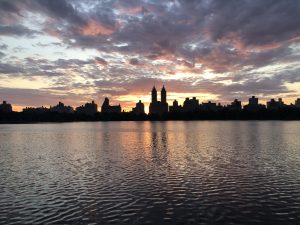 yeah, that about sums up this week. The routine of getting in a run or walk before work has been perfect, leaving evenings free to run, or chase stunning sunsets. Being active makes me feel better, and while there's so much out of our control in today's world, I'm really appreciating this opportunity for some balance.
Between intentional tracked walking and running, I covered 26 miles this week. That makes me very happy.
While I've been hit or miss on reading non-fiction (hi, summer brain), I've really enjoyed a couple of podcasts on racism in running, specifically Running Rogue's #182 with Alex Williams. It's long, but so worth it. As women, we think of our safety, but as a white woman I never had to wonder whether I belonged or was seen as part of the running group because of my skin color. Eye opening.
NYC entered Phase II this past week and while I'm still a little mystified on what this all means and am generally being cautious, I had the pleasant surprise of finding some non essential retail are open for shopping. Was doing an order for Old Navy shorts and when I went to pick it up, I found I could have just shopped in person. I'm not sure I'm ready for that, and also think like grocery delivery it saves money in the end in avoiding spontaneous purchases.
Speaking of semi spontaneous purchases. A friend and I were discussing the demise of the New Balance 1080s on twitter and another friend chimed in that she swears by and never needs to break in Brooks, so I decided to bite the bullet. Added benefit, they're purple! On one massive mail day that included my Freihofer shirt & medal & Keurig order, the shoes came and I couldn't wait to try them out.
Weekly run down with Deborah and Kim:
never miss a Monday morning walk: first of three this week that kicked off at the Great Lawn. This one was, in fact entirely on the Great Lawn as I wanted no lights and a constant surface to get the pace right for Runbet.  It was a beautiful summer morning.
Tuesday: I ran, apparently. I have zero recollection of this run and even looking at Strava, zero memory.
Wednesday: grateful for cloud cover, I walked south on the East River for a nice three miles before work.
Thursday: this loop is always four miles. Today? It was 3.8. Still a great start to the day.
Friday: A lovely five mile walk to start the day and end the workweek, and a walk to Central Park after work for that stunning sunset. Spoiled to live where Central Park is part of my daily life.
Saturday: new shoeses! This run was one of those where it's all the mental games. Didn't want to go, wanted to bail at a mile… and then I warmed up. Four solid miles and while one run is too soon to tell anything, the Brooks felt good.
sweaty Sunday: wanted to walk, but bored with the usual haunts so we met on the Great Lawn and headed toward the shaded and quieter North Woods. I love the Great Hill and the Block House, which dates to the War of 1812. Some six miles walk/hike before popping home for a needed shower and break from the sun. If the weather holds, there might be some bus lane sushi in my future today. I"m not ready to eat indoors when that's allowed in the coming weeks, but distanced outdoor dining?