I love Tuesdays on the Run. And I love having the "cheat sheet" of the topics early so I can get these written at the weekend. This week? Keeping Running Exciting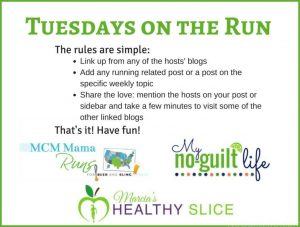 Linking up with: Erika at MCM Mama, Marcia at Marcia's Healthy Slice, and Patty at No Guilt Life.
For me, I think the main way I keep running exciting is varying routes and locations. I'm lucky enough to call Central Park my "home" course, although lately I feel like I've been running as much along the East River. Slightly more shaded and definitely more of a breeze. But even running in Central Park all the time gets old. I need new scenery to distract me. To that end, last week I ran the Hudson River side of Manhattan and Randalls Island, in the middle of the Harlem River.
I really wish they'd finish the Greenway around Manhattan. That has been an issue for the Great Saunter as well as my personal version: the Great Manhattan Loop. While I don't see myself running 33 miles any time soon/ever, it would be awesome to be able to run the circumference of Manhattan without dipping onto city streets. I thing an upcoming long run is going to be the west side from Battery Park to the Little Red Lighthouse because that is one of my favorite parts of Manhattan.
When I'm in the city it's fairly easy to find a variety of routes that intrigue me — but when I'm at mom's it's harder. There's either the South Nyack Trail, or Rockland Lake if I can get the car. Suburbia and I don't get along well. I haven't gotten into race cations in a big way, but do enjoy using running as a tool for exploring a new area.
I think avoiding boredom is part of what I enjoy about racing. Although I can happily lose myself in the miles in Central Park, there are some days like brutal summer mornings where it's just easier to do so when the run is supported. Even if it's a small crowd, something about the volunteers out there.
Although I don't tend to mind running on the treadmill, I need some variety since X distance at Y pace is just a recipe for boredom. I think this is why I started to enjoy intervals once I was running 4+ miles on the treadmill. But I also think it's why C25K is such a great tool. It's not the whole time/distance at one so much as chunks.
Running is also a place where I get more girly than I do in normal life, so sometimes "cute" new clothes get me going especially on a dreary day.
And I won't lie, sometimes if my head isn't there for a run I'll cross train or do something else. Even if it's something I love 95% of the time and 100% more than any other prior gym exercise, I don't love it at all times.
What other tips do you have?