I love Tuesdays on the Run. And I love having the "cheat sheet" of the topics early so I can get these written at the weekend. This week? This best city I ever ran in is…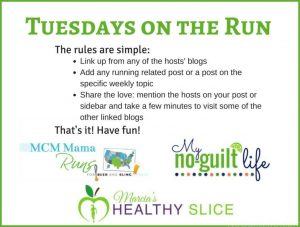 Linking up with: Erika at MCM Mama, Marcia at Marcia's Healthy Slice, and Patty at No Guilt Life.
And I'm going to cheat and purely look at destinations, because otherwise there's no way I answer this as anything but home. There are so many great places to run around Manhattan, especially Central Park. And it has been true for two hundred + years! 😀
"Look around, look around at how
Lucky we are to be alive right now!
…
History is happening in Manhattan and we just happen to be
In the greatest city in the world!
I'm only counting cities where I've run outside (so no Amsterdam or Reykjavik) and actual cities, so no Nyack, Avon, NJ, Palm Springs or my friend's subdivision in suburban LA. (Yes, Palm Springs is a city but I only ran on the resort grounds, so it doesn't count). My Birmingham adventures with Liz feel like a hybrid as we took a bus from the city center to her neighborhood but our running route had a decidedly suburban feel so I'm putting that in the same bucket as Nyack, Avon. If the question were places, this would be a lot harder.
So that said…Montreal, London, Washington, D.C.,  Santa Monica, Fort Lauderdale.
Ugh. This is hard.
I think off the bat I'm ruling out Fort Lauderdale since none of the runs felt like city runs. The half marathon is great and I look forward to running it again in 2019, but to me it's against the spirit of the question. True the hotel fun run did run down a major thoroughfare, but… It has to go.
By the same token, I'm throwing out Santa Monica. It's heartbreaking to think about the Woolsey Fire in Malibu as I ran just south of that from the Santa Monica pier north to Pacific Palisades and then back down to Venice before finishing on the Pier. But it was a paved path on the beach, so that isn't a city.
So that leaves London, Montreal, and Washington D.C.
Each has really good things about it. Montreal was a way to explore the area near the hotel and get the lay of the land. Washington D.C. was cherry blossoms! Can't imagine a more beautiful race course, yes cherry blossoms > oceanfront somehow. London is… London. Running through history.
Yeah, that's my answer. From the day I arrived where I sightran along the Thames to get the lay of the city to a short run for a view, to my pre-airport farewell, London was nothing but magic. Weather was perfect, it was easy to add distance when seeing new things, and the city's architecture is just out of this world.
What's your favorite city?
Is there a city/race you recommend?