Throughout COVID we heard running isn't cancelled, which was very true. And it's not even my return to racing-but NYCRuns' Spring Fling just made me feel normal.
Not a full race recap as the course, amenities are the same as Haunted Island and Firecracker 10Ks, but it was so much fun to be playing outside with friends after a gorgeous sunrise ferry.
This is NYCRuns' first March race on Governors Island and the island being open year-round dovetailed well with the construction on Roosevelt Island rendering races impossible for a bit. My one tip for anyone contemplating March on Governors Island-layers! Did not want to rush to bag check-and tiny race I didn't need to – because my coat was nice. I was regretting my lack of gloves, and then early lap two I shed the hat and the top layer. Luckily it packed into the hat nicely for easy carrying as I knew I'd regret it if I disposed. 10 seconds after the finish line pic, layers return! So fill your checked bag, which you'll need to do for race shirt. I did see a fair few adding it as a layer though.
I'm usually close to race pace, but I laughed my ass of on this. Mo and I were both about .2 over and our pace way below the official 10K pace. No GPS issues but photos, moving to the side to adjust layers, high fiving volunteers. True fun run.
Speaking of normal times with people, so great to meet Erica when she was in town for the Half. The app actually behaved and I spotted her still smiling at mile 12.5 ish as well. This group is the best link up of people!
Original title: March Madness
no, still haven't turned into a basketball fan, although I'm enjoying St. Peters' Cinderella story.  Just (good) crazy work with our Annual Meeting on the horizon. My big event skills are… rusty.
Linking up with Kim and Deborah to talk about running as an escape from the mayhem
never miss a Monday: wasn't too worried about the heel but took it cautious and mostly flat. Good run, no pain.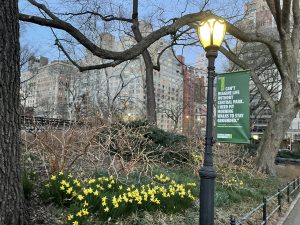 Tuesday: why are Tuesdays chaos? Made it out for a quick two mile walk after work.
Wednesday: return of the run commute. My calves definitely tightened up during the day and running with the laptop is a form issue, but I'd definitely rather walk or run to work then take a crowded train. Bonus: cherry blossoms.
Thursday: Fred says, time for spring! Office run group meets enjoying the Park's cherry blossoms. Longest since the heel issue and nearly pain free. Whee.
Fridays: are for Fraggle Rock! Met a friend for drinks and spent a few hours before at the Museum of the Moving Image whose Jim Henson exhibit is absolutely amazing. I love what goes into the creation of these characters.
Saturday: Spring Fling. Brunch. Life is good.
Sunday: lazy day. Good book. Hopefully a pedicure. Restoration ahead of a busy week.
A week out from Cherry Blossom 10M. Fewer blossoms, better pace? Absolutely going to be a fun weekend. Yay!