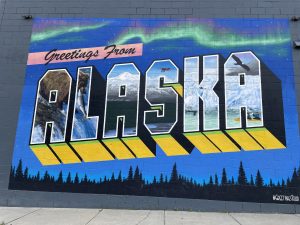 Oh what an absolutely wonderful whirlwind trip it was.
Trying not to double up, so the vast majority of pics are on Facebook or my Instagram under #IveComeToLookForAmerica, a fun tag I adopted for my 50 state chase. State 40 of 50, oddly done twenty years after Hawaii, the other hardest one from an East Coast POV.
These are all plain links, and no commission or other benefit to me. Just want to share love for vendors I used and/or make it helpful for those planning an Alaska trip. Essential ingredients for Alaska adventure:
sense of adventure/go with the flow. Alaska is almost as laid back as Latin America. Roll with it, it will make life easier.
Athleta Rainier tights. Absolutely perfect for the weather with the exception of Anchorage, which reached 70
North Face Antora Jacket. I didn't need it daily, but it was so good to have it for the wet days. This was a random find at a Dick's Sporting Goods near mom after finding the Columbia outlet closed
Merrell Women's Moab 2 Vent trail shoes. I looked at trail sneakers and they were mostly ugly, so I crowd sourced this from friends who hike and I LOVED these shoes. I wore them at any time I wasn't wearing my sneakers and they were perfect. No blisters or any issues, now I just wish I had more reasons to wear them here.
BALEAF Women's Long Sleeve Shirts. I was looking for quick dry shirts that weren't race shirts so I didn't have writing on all the time. A friend recommended BALEAF and I got these on Amazon. They're the wrong weight to run in, but could be great for damp days or lounging around. Or, again, if I hiked.
I did some of this as a DIY and used Alaska Tour & Travel for the bulk, which made my life so much easier. I can't think of another scenario where I've used a travel agent for a domestic trip, but it was so worth it with all the moving pieces. It was as if Aubrey knew me when she made a first pass at the activities and we made only a few tweaks thereafter. Would not hesitate to recommend them to anyone. I didn't know Aubrey before, she just happened to be the one my inquiry landed with. Alaska isn't hard to book, just complex, and made more complex by my deciding to do this trip about a month out.
Linking up with Kim and Zenaida who probably had no idea how excited I was to see an Off Topic prompt so I could link this long overdue trip report. I actually did run twice in Alaska after the Half, but it wasn't the focus of the trip or the post. TL;DR: Alaska is amazing. GO! Also, how many times can I use magic/majesty in one post. There really is no other word for this place.
Flights:
Alaska Airlines had, by far, the best flight options from NYC. My routing was: JFK-Seattle-Juneau (Thursday), Juneau-Anchorage (Sunday), Anchorage-Seattle-Newark (Saturday). I picked Seattle as it had a comfortable, but not ridiculously long layover (Denver 11 hour sideeye!) Pretty much the only thing I'd change about this trip is rather than a six hour back track from Denali to Anchorage, I'd have continued north and flown out of Fairbanks. This was my own doing and not the travel agents as I chose my flights. It was all fine, but definitely food for thought since there was a Fairbanks-Seattle flight too.
I found it easy to essentially stay on East Coast time throughout the trip. It was probably ultimately closer to Central, but it made the early wake ups seem much more palatable and I was tired at night from busy days anyway. This would be hard if you're chasing the midnight sun, but wasn't a major issue for me. I had some crazy daylight in Anchorage though (more below).
Itinerary
Thursday July 28
I left NYC at 7:30 and landed in Juneau around 3:30 after a four hour time difference and three hour layover in Seattle. I was tired, but wanted to not be up at 4 AM so I did what you always do in a new city: shakeout run. This allowed me to have a plan not only for the Half, but also to know where to get the shuttle for the glacier on Friday. After ~ 3 miles, I went back to the hotel for dinner. Not usually one for hotel restaurants, but it was raining and didn't relish the idea of sitting in wet clothes while eating. TK Maguires was good and I had my first of approximately six thousand fish and chip meals. So good!
Friday:
The only real must see on my Juneau list, which was entirely DIY, was the Mendenhall Glacier. I opted not to rent a car in Juneau since math told me (and trip verified) that Ubers would add up to significantly less than car rental, gas, etc. There are ways to get to the glacier via public transit and walking, but coupling that with the site pass made it easier to just book a tour. Juneau is a cruise town and there are plenty of vendors set up to greet the disembarking hordes, so there's not much need to book ahead. I was warned to get out to the glacier before the cruises were in full force, so coupled with being on east coast time, I headed out early. I quickly bought a ticket from M&M whose tout was less annoying and was en route to the glacier by 8 am. The pictures do not even do the shades of blue justice. It was amazing to see part of why Juneau is so completely inaccessible, with plane and boats the only way in or out due to the lack of a road to Skagway or Canada, although the former might change one day.
After walking out to Nugget Falls and Photo Point, I had a choice to make: fresh legs for the Half or East Glacier Trail. If you remember that this was a travel blog before it became a running one, there really is only choice. That said, I'd guess we'd all make that choice too. I was a good tired when the return bus brought us back to downtown Juneau. I explored a little before tucking into salmon fish and chips at Deckhand Dave's. The oysters were calling my name, but not the night before a race.
Saturday:
The race was in the morning and even with the late start and lingering at the finish, I had time to take the tram up Mt. Roberts to explore in the fog. Bonus: fun #MedalMonday pictures, although I wish I'd have had a clear view of the glaciers! behind me. Recommendation if you're going to hike the trails: download the app when you're in town. There is WiFi at the tram, but it's not a strong signal. There's a restaurant up there that wasn't open due to a private event, but there was still plenty to do. No restaurant? No problem. An excellent excuse to get spruce tips ice cream from the cart next to Deckhand Dave's. Shouldn't ice cream be mandatory when you race? I am so glad I accidentally found the Juneau Half on a Half Marathon calendar, because otherwise this trip would not have happened.
Sunday:
I knew I had only about 12 awake hours in Anchorage. Do you think that meant I planned my trip down to the minute? Nope. Luckily Anchorage is a relatively small enough city that it wasn't necessary. I landed at about 9 am and after dropping off my suitcase, I walked downtown. Anchorage hotel rates were through the roof so I stayed a 30m walk from downtown at the new ALOFT. Not ideal if you're wanting to be right downtown, but Uber and bus also provided easy access. It was fine for what I needed, which was a place to sleep.  I had two vague agenda items for my time in Anchorage: the Alaska greetings sign and the Tony Knowles Coastal Trail. The walk downtown was fueled by the Alaska native version of fry bread (so good!) and after finding the sign and engaging in some tourism ham, my tired feet caught up with me and I wanted to rest. I'd read about the Anchorage Trolley and it turned out to be the perfect way to get the lay of the land. It's how I found out about the modern day Iditarod beginning at Balto's nose and way more than I ever needed to know about sea planes.
The tour was about an hour and when we returned to the start, I doubled back to the bike shop I'd walked past. I knew that running was out of the question, but I'd heard so many good things about the Coastal Trail and really wanted to see it, so I was curious what they offered. A 3 hour bike rental with the Coastal Trail said to be 2.5 leisurely hours? Sounds good to me. Rental was about $25 with helmet, water, lock included which sounded like a good deal to me. We got a handwritten map, which was wonderful but someone (aka yours truly) didn't read it in detail before heading out. It was not 11 miles round trip, but each way! Not exactly the Half recovery anyone prescribes, but I'm here, it was gorgeous and MOOSE! So magical to see Mama there just chilling. No cubs around so she wasn't bothered by humans, and we all kept a safe distance. I was not thinking ahead to a 20+ mile bike ride when I started riding a bike, in fact the trip wasn't even booked, but I guess my subconscious knew. I 100% walked the bike up the big hills and would do it again, but otherwise rode all of it.
By the time I got back I was tired in all definitions of the word. Luckily it was an easy Uber back to the hotel with fueling by a reindeer hot dog. I had to! Would I have known it was a reindeer without the sign? Probably not, but it was so good. As I mentioned in the race recap, my metabolism was all over the place this trip. Is Anchorage a must see on your Alaska trip? Honestly, probably not, but I enjoyed my day there. As Juneau had been fogged in, Anchorage was my first real time dealing with the long daylight (10p sunset) and I couldn't believe how bright the sun was in my room at 8pm. Luckily it did a good job drying out my damp half marathon clothes and socks from time in Juneau and the hotel's blackout curtains made sleeping a non issue.
Monday:
When I checked out and went to get an Uber, I found out that the hotel shuttle would go to the train station, which was a lovely surprise given I wasn't sure how Ubers would be at 4:45. Anchorage Train Station is below street level and the views. Well, just look at the first photo.I wasn't crazy about waiting in a crowded train hall but the sunrise gave me all more reason not to. One awesome piece of unexpected news was that I could (and did) check my suitcase from the Anchorage Depot right to my hotel in Seward. Lovely to not need to move it between arrival and the fjord cruise's departure. The train ride down was stunning. I was booked into Adventure Class on the trip down and having experience GoldStar on the return I'd say the upgrade is absolutely worth every penny.
Reps from Major Marine met the train and we could shuttle or walk the few hundred feet to the boat. This (and the train to Seward) was where I picked up the travel agent's itinerary and it was nice to get an email before I left asking me to select my lunch sandwich. The glaciers in Kenai Fjord National Park are breathtaking. The pictures don't even come close to doing them justice. One PSA: if you're at all susceptible to motion sickness or thing you might be, bring Dramamine. The Gulf of Alaska crossing even in "only" four-foot swells was rough. Absolutely worth it though, but made much more pleasant by a) Dramamine and b) going outside and de-masking for some fresh air. There was something magical about standing in front of the Aialik glacier watching orcas frolic. I didn't get photos because they were never going to come out and it was much more fun to watch them, the humpbacks and otters. Pure pure magic. The 6 hour tour was plenty for me, but they also have 8 hour ones.
I was booked into the Harbor 360 Hotel which could not get any closer to the small boat harbor and my room faced onto the waterside walkway. Absolute magic for both sunrise and sunset. Not that I made sunset as after a quick walk up the road for dinner (lost count, but I think my 3rd fish and chips of the trip!) I was tucked in and snoring.
Tuesday:
Seward is a tiny town that they literally picked up and moved after the 1964 earthquake decimated much of the Anchorage region. The "new" town is about a mile and change from the boat harbor and old town, of which only a pier remains. The waterside path was perfect for a shakeout run, my first since the Half. The IT Band was not happy, which wasn't surprising given the long bike ride and the Half, but the run felt good. Fun way to learn a little more about the history of Seward. After that I checked out (and checked my bag through to Anchorage), I walked to the Exit Glacier offices. This wasn't on the original itinerary but I'd found it when looking for what to do to fill my day in Seward and Aubrey was able to add it. I was so glad as it (and Seward overall) ended up being among the highlights of the trip. Like all the glaciers we saw on the boat cruise, Exit is part of the Harding Ice Field. What was the most poignant about it was on the drive in and walk to the glacier you see signs showing where the glacier was at various years in very recent history. I think it's impossible to visit Alaska and not come away thinking about human impact on our environment. It was really interesting to learn about where the blue comes from (glacial silt) and how many shades it can take on. Before this trip, my only glacial experience was in Banff (2004 era digital camera pics, dial up warnings!) and it's really amazing to think how much they've changed in even that short window.
I had some time to kill after the hike so I did some souvenir shopping, and wrote some postcards before heading to the train. While Denali was every bit I expected and the highlight I knew it would be, Seward was magical and because I had no images of the glaciers, truly truly awe inspiring. This is a must-see on any Alaska trip. Like Juneau it's a cruise town but didn't appear to have the volume that Juneau did.
I knew that GoldStar had an open viewing area, but I didn't realize just how magical it would look. I spent much of the ride out there just enjoying the changing light as we headed northwest back to Anchorage. I can still hear almost a month later, the conductor interrupting his arrival schpiel with "And there she is, Ms. Denali" as the mountain came into view as we pulled into Anchorage. And yes, it was still light enough to see her on the horizon as the sun hadn't set at 10PM! Even as I got to the Captain Cook and into my room, it was still twilight at 11. Absolutely surreal. The Captain Cook is an old school and of course haunted Anchorage hotel. It's gorgeous with every amenity possible, yet I have no review as I was there about six hours. It was great to be spitting distance of the train station and the pickup point for morning since morning came very early.
Wednesday:
There are no words for the majesty that is Denali, but backing up slightly first.
Due to last minute booking (my issue, not the travel agents), I couldn't get a seat on the train to Denali so was booked on the Park Connection motor coach. It was a large taxi as there were only seven of us on it, which was lovely. The bus driver provided commentary and some stories, and we were treated to a wonderful peekaboo view of Denali as we drove from Talkeetna to the "town" of Denali, another entrance to the National Park. Originally I wanted to do Talkeetna for access to the mountain, but lodging was tight and Aubrey suggested going further north and I am so grateful as it's much more off the beaten path. A flightseeing tour picked up at the Denali Bluffs (Probably my favorite hotel of the trip, log cabin style motel with a view) and I spent the evening with absolutely magical view of the Park, mama mountain and the Alaska range from the front seat of a Cessna. The light. The texture. The clear air. I have been in some magestical locations, Iceland among them, but there was magic in the air in Denali. Altitude and glaciers, maybe? This was another late night by the time we got back, but absolutely worth it. I'm not a small plane person, but there are some destinations that just call for it. I wish I had photos online besides this one of the trip I did to the Purnululu in Western Australia.
Thursday:
So I guess this is a good time to talk about my camera. I bought this little point and shoot for Iceland since I knew my iPhone battery would not survive the cold. I don't use it that much anymore since the iPhone is better but it's good for full moons, fireworks and Giants games. On a whim I remembered just how good the zoom is-one thing I HATE about the iPhone 12!-and decided to pack it. It was so useful for the wildlife on this bus tour, which is really the primary ground way to see the Park. And the Mountain, if she's interested in coming out to play. I kept hearing that we were among the lucky ones to have seen the Mountain, and having had good (Fuji-san) and bad (Mt. St. Helens, Ranier) mountain luck, I certainly appreciated how lucky we were. She was visible for almost the entirety of our tour, which also featured  grizzly, wolf, fox, caribou, wolverine and other beautiful creatures. I'm not normally one for a bus tour, but Don was a great naturalist guide and it was a good cross section of people. The bus has snack boxes, or you can request a lunch bag from your hotel with sandwich and non perishable items.  Not that I hadn't done my own snack preparing, of course. The ride is shorter than it would be in other year due to the Pretty Rocks landslide, but I really didn't feel as if I was missing something. Denali is six million acres, so you can never see it all.
After returning to the hotel, I knew I wanted to get my National Parks Passport stamped and do some shopping on my last full day 🙁 so I ran from the hotel to the visitor center. I couldnt' work out why I was struggling so much on the run. It wasn't my knee and it was < 3 miles. Oh, hi, Denali is at altitude. Nothing significant, but 1,700 feet isn't nothing. I embraced the run/walk and did some souvenir shopping after I got my stamp. Was grateful to see the shuttle arrive as I didn't feel like running or walking back to the lodge.
Friday:
Edge of Denali: best retirement home for an awesome pair of out of miles NYC @brooksrunning shoes. Thanks for the miles and half marathons well loved shoes pic.twitter.com/eC7cqLEya6

— travellingcari (@travellingcari) August 5, 2022
The last booked activity was a nature walk with Denali Backcountry Guides, and before Alexis picked us up, I had to check out. I'd chosen my shoes based on enough miles, cushion to get me through a Half, but close enough to the end of their life that I wouldn't mind recycling them for suitcase space. Farewell fair NYC Marathon Brooks Ghosts. You were fun. Lots of miles, and smiles. The nature walk was great. Five of us and the guide, all of which had been booked by Alaska Tour & Travel, so it must be one of their preferred vendors. We meandered, learned about the berries and trees of this portion of the park. The impact the melting permafrost has on the trees is stark, as is the utter silence on a cool, rainy morning. I like it when it rains the last day of a trip, makes it slightly easier to leave.
Fall was in the air the prior evening and by the time we were returned to the hotel, it was an icy rain in the 40s. I saw a photo after I returned home that it had snowed in Denali. Earlier than normal, but August is definitely fall in Alaska. I had lunch, wrote a few postcards and waited to do the Park Connection bus in return. If I changed anything about this trip it would be to take the train to Fairbanks and fly out from there vs. backtracking six hours to Anchorage. But it was fine. I've dealt with long travel days before and while the bus didn't have wifi, it had a charger and I could finally sort through all the photos. I think I took about 2,000! Not particularly surprising as I kept taking and taking photos of both Denali and the glaciers. Truly other world scenery.
By the time I got back to Newark (better layovers, earlier arrival time), I'd been travelling for about twenty hours since leaving Denali and the decision to take an Uber the last leg vs. three trains was an easy one. 95 degree temperatures while dressed for 40s just made it even easier.
I can't believe it's less than five weeks since I left for Alaska. I think trip of a lifetime is a cliche, and I've had some amazing trips, but this is up there. I was already planning my return before I even left, a lot crowd sourced from folks I met who had seen/were going to other places. I don't know yet when that will be, but I look forward to seeing Barrow, Fairbanks, Gate of the Arctic National Park and more.
Have you been to Alaska? What's your favorite destination? Ever had a trip decided last minute by a race?