One of my unwritten 2023 goals was more self care. Sometimes the tool to accomplish that is a screen break. I was grateful too to be able to spend some time outdoors, which is always medicinal. While I worked from Mom & Bob's one day, it was also wonderful to take a true vacation.
Linking up with Kim and Deborah to talk about January in running and reading.
And what else comes with Florida? Blogger meetups. It was so fun to finally meet Jenny after our schedules were out of alignment on prior visits.
As with everywhere else in the US this "winter", Florida weather was all over the map. I had days where 8am was too late to run, and others where I could have run forever under overcast skies. Overall, half marathon training/the Team Wilpers program is going really well. It's hard to trust the program especially with regard to easy pace and cutback weeks, but I'm excited to see where it takes me. I'm also grateful to it for getting me out the door when I really don't want to – like yesterday's 12 degree wind chill at 4Pm when I finally went out. It was -11 earlier in the day. While I prefer winter over summer any day, I don't love the extremes of either. Living in a world of 20-80 (with cooler temps in the morning for runs) would be just fine.
One thing I've always loved about races is "fast braids" and I'm excited to report that my hair is long enough for a messy french braid! Maybe my hair is in training too. It won't be long enough for the NYC Half, but there's hope!
I'm moving runs around, which is helpful to make sure I get them in on work days. I got spoiled with vacation but this is my first full week since early December (eek!) and I think I have a good plan that takes in both not running on office days, and a long run even though I'm doing a 4M race next weekend. No goals, just fun. NYRR just updated best pace and I have no idea my corral anymore.
83 is my monthly running goal to hit 1,000 on the year and while I came in just under at 73.96, I'm not worried.  The volume of long runs will pick up in February and I always run more in spring and fall than I do in winter and summer. Most importantly, it's been relatively pain free. After the IT Band bothering me more than I talked about in fall and winter, this is such a relief.
On the strength training front, Matty's enCORE challenge makes it easier to do a daily strength class. And funnily enough, the first time I did it was also in tandem with a break. This time of year is hard.  Sometimes it's time to listen to your mind as well as your body. Speaking of minds… in 2006 I was living in Japan and spotted an Air Canada fare sale. I could go home for under $300. Round trip. The available dates happened to coincide with Dad's birthday and with my brother as airport chauffeur (and photographer!) I surprised mom and dad when I rang the bell.  Turned out to be Dad's last birthday. Listen to your gut. Love your people.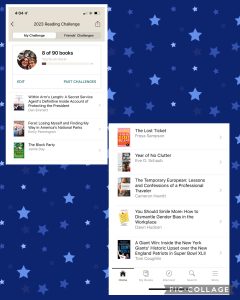 A ten day vacation means good reading time. An interesting mix of books. I read more non fiction than I normally do on vacation. The Lost Ticket was really sweet. I enjoyed Feral because I'm a National Park nerd – and Deb you may too!
I don't drink enough to bother with Dry January, plus Bob is a great cocktail maker. I'm a sucker for butterscotch and while this didn't' really work with almond milk which is too thin, it was delicious. I also admire the survival skills of that one piece of spinach that was not going to be sucked into the blender blades. While Delray has a great farmers' market, the veggies didn't come from there but there was still something easier about eating lots of greens in smoothies and lunch salads.
Here's to a strong February!