This week was all over the place.
I'm healthy and safe, as are my family and friends, so that's where I'm going to leave the CV19 talk. I hope the same is true for you and your loved ones. I think many of us learned in the last few weeks that connections are even more important – if anyone needs an ear, I'm always available to talk/text/whatever.
If you celebrate, I hope your Easter and/or Passover went as best as possible given current conditions.
I love Hope for the Warriors and miss their NYC 5K, so I was happy to see they're doing a virtual fitness challenge. It's free, but there's a donation requested. It will integrate well with the Zooma challenge and is a little less intense than the 21 Day Fix, which my IT Band did not like.
Speaking of a cranky IT Band, not much running this week but still linking up with Deborah and Kim to catch up with the amazing running community.
There was a beautiful Uncanceled Project slog of a 5K.
There was a run turned walk on Saturday when I realized it was stupid to push to run when it hurt when a walk didn't. The park was gorgeous and empty enough to social distance easily.

There were tears over Slow Dance More. I'm fine, but this situation is just so uncertain.

There was a Zoom baby shower, fun virtual runs "together" with friends, matching, sharing local sights and finding our inner creativity. I am so grateful for technology allowing me to see family, friends and colleagues.
I rediscovered enjoyment of writing letters and cards. My handwriting is atrocious, but sometimes email doesn't cut it.
There was a delicious lunch, courtesy of a friend's recipe, for four days that I will be making again
There were multiple walks timed to participate and take in #ClapBecauseWeCare from a different vantage point than my window
There was a purchase of a balance pad to improve my in-home PT efforts. The IT Band isn't anywhere near as bad as it was in December, but neither is it as good as it was when I graduated PT.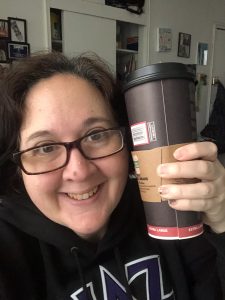 There was coffee the size of my head, because coffee makes so many things better
There were some pretty sights and a podcast with one of my Rogue coaches as I ran/walked errands to find the post office. I've lived in this apartment for 7.5 years and the general neighborhood for more than 10, but so much I don't know because I rarely explore the avenues.
There was couch time with a wonderful book about the National Parks. My trip to Mesa Verde scratched that itch, and this book continues that. I can't wait to visit one hopefully later this year. No Jan 1 sunrise hikes in the snow for me though.
There were many silly memes and a great thread about school memories.
Hang in there everyone.