Because that is really all I did this week. I keep saying I need to get  back to my morning walks, and maybe one day I really will. On the book front: Daniel Silva The Cellist (review TK this week), Stephen King/Richard Chizmar's Gwendy's Button Box, Gwendy's Magic Feather and Kevin Chapman's Fatal Infraction. Mysteries are like unplanned walking early in a run, you just know it's going to turn into a walk. Nothing wrong with either and summer is designed for light books.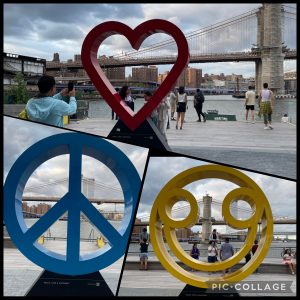 Sunday's sunset (top) was a sign of things to come, sky wise, for the week, but it capped an excellent day where I not only got Dairy Queen (yay!) but two dresses (blue and black dots). I know, who am I?! I also loved this installation at Pier 17, memories of writing that in yearbooks in simpler times.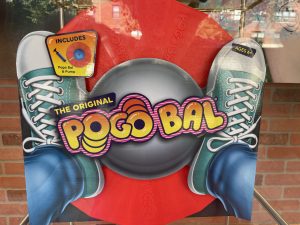 Saw this in a store window display and couldn't help but giggle. Outing myself as the 80s child I am as we had a pogo ball, pogo stick and of course a skip bo! Anyone else?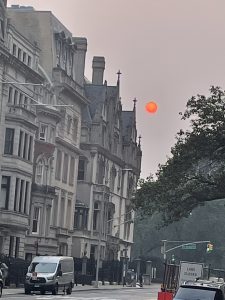 Paging Smokey the Bear: I do not remember skies this bad this far east in a very long time. This was as bad as Denver in 2017 and much further from the fires! Floods and heat waves in Europe, North America on fire, but Bezos and Branson can go to space. The world is just fine.
Weekly Run Down with Deborah and Kim:
never miss a Monday: I know I ran, since I wasn't thinking about how I hadn't, but without looking at Strava, I have no idea. 5 miles in much better weather than Saturday.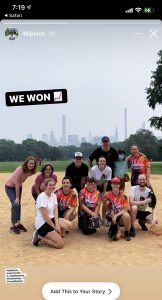 Tuesday: the worst of the fire skies and I barely even got out for a walk. A really good book was a part of that too as I decided I'd rather read than walk in the morning. Missed the text to play, but watched the last couple of innings and still made the team photo.
Wednesday: while the skies cleared after some midday rain, the run in the morning was brutal humidity and air quality wise. I took it easy and just kept moving.

magical evening

Thursday: oh what a difference a day makes. Office run group, and the humidity had finally broken after what felt like a month. We did our loop and when I got to my park exit, I decided I wanted to keep running, so I did. Ended up with a total of 8.5 amazing feeling miles as I meandered around the Great Lawn and reservoir. A picture perfect evening. I never got into the mid week long runs when marathon training and don't see them as a regular thing, but this was fun. It's insane how much a difference the weather makes.

always a nice sight to see

essentials, even when you're a TV star

Friday: another gorgeous, low humidity day and I decided to take advantage of our summer Friday hours and SVU filming nearby and go explore. You're not allowed to take photos of scenes filming, but it was just fun to watch all the buzz and what it takes to put together literally one scene. I hung out until the moody skies turned to rain and then headed home and read on my stoop until I became mosquito food again. A wonderful summer day.

mapped

reality

not a planned stop, but always a fun sight

Saturday: I was so excited to run. After weeks of wanting to run but dreading the humidity, this was straight up excitement at planned temps in the high 60s at 6am. It was a little more humid, but still absolutely magic and I decided to go for the route I mapped last Friday to try and find the Riverside Park goats. I didn't, but I think I know where they are for next time. It was an amazing run as Harlem woke up, and I'm not sure I've run crosstown since the tune up for the Bronx 10m when we ran from Yankee Stadium to the Run Center.. Crack is Wack wasn't on my route, but it was a quick detour which I was glad to make as I hadn't seen it since it was restored, and am not sure I've been there in person since my first visit. Since I'd veered north, I decided to skip the business of 125th and as a result, I had some unexpected finds including Collyer Brothers Park, which I'd read about but didn't know precisely where it was.  As I made my way northwest, I thought about a couple other possible long ish routes for summer and fall. Life is good when running is fun. As a bonus, I ran into Rogue as they were headed north and I was running south along the Hudson. Nice to see one of my old coaches after such a long time. Rest of the day was some strength work, sushi lunch and two books while crashed on a park bench. Simple days.
lazy Sunday: catch up on blogs, straighten apartment (aka put away four weeks of laundry). Maybe a walk if it stops raining. We need off days.