Not that I stopped – more on that in the half year recap – but the first half of the year has been weird, running wise.  I started to feel the itch to run more again when I got back from my trip and decided to roll with it. Of course the smoke put a slight dent in that, but glad to be off and running again this week.
I had just said I had nothing on my calendar after last Saturday's Mini 10K and then I ran into the wonderful buzz saw of the runners' high after being paced to a strong run and signed up for three races!
July 4th Firecracker 10K – I love running on Governors Island and did this in 2021 and 2022. Here's to a fun threepeat since July 4 is a Tuesday, which doesn't lend itself to going away.
Bronx 10M – I've only done this once since I didn't love the course, but two friends I was having brunch with were running it and itchy feet & fingers. It was actually sold out, so I signed up to run with Team for Kids, Since it's not a marquee race, there's a low fundraising target and if I'm being honest I'd rather give my money to TFK than NYRR at times.
Ted Corbitt 15K  – I actually didn't realize this one had opened for registration, oops. Glad to get in before it sold out because I truly feel it's one of the calendar's most important races, NYRR legacy wise. NYRR races have sold out quickly again this year as folks are more comfortable traveling, racing and have used up their 2020 deferrals so everyone is trying to get 9+1.
So that's my summer/fall. I still think I want to find a Half later in the fall, but we'll see. With the cancellation of the one on Governors Island, none is jumping out at me yet.
ETA:
and then… NYC Runs knows their audience and I got this email on Thursday. More on that below.
Missed the linkup, but trying to get back into consistency here so, unofficial Weekly Run Down: and then I never got it finished, so here's two week Weekly Run Down with Kim and Deborah:
Week of June 10:
Saturday: I touched on this briefly last week, but we had the best weather ever for the Mini and I had my favorite pacer and it was fun/fast. I tired at the end because I'd walked/run to the start and haven't done 7+ miles in some time, but it was a wonderful tired. Caught up with a group of running friends I hadn't seen in a while or run with in way too long, and that's always a PR in fun.
Sunday: I don't run both weekend days, except when it's the main way of getting me out the door. I went for a quick runset shakeout, and between travel and smoke, I'd  really missed my CP sunsets.
Monday: wanted to walk into the office to get the week off on a good start, but it was raining. Luckily there was a window in the evening and I made it almost all the way home before the skies opened.
Tuesday: when Darlene is in town, there's (almost) always a walk/run/coffee/meal on the books. This time it was a combination of all as I ran to meet her, and she walked me home as we enjoyed our coffees.  A walk/run is always a great way to start the day, and I finished it with a little Museum Mile and sitting on a winning trivia team. I somehow didn't get a pic, but together with the gift card to the hosting bar, we won a super soaker, squealing chicken and other dollar store fun.
Wednesday: a preview of the WTC PAC, the last piece of the World Trade Center campus. I think their tag line is perfect. Coming together at a place of sadness, history and death to enjoy the arts. I was glad for Gillie and Marc's installation. While meaningful in terms of endangered species, it's also playful, which I still need when looking at the reflecting pools that were formerly the bases of the Towers. Worked from home after this event, which means a Central Park runset and visit with Fred.
Thursday: Seen on my commute into the office.
Friday: the weekend was meant to be a rainout, but the only rain that impacted plans was Friday afternoon, and my apartment appreciated the TLC of some belated putting away of laundry and other cleanup.
Saturday:  in NYCRuns' email was the Pridefit 5K, which piqued my curiosity. The NYRR Pride Run sold out super quickly (yay!), but was bummed to miss out on a running celebration of Pride. The Pridefit was in support of GLSEN whose work is ever more necessary and when I saw the rain was scheduled to end, I signed up. It ended up being a tad too chilly for a tank top, but perfectly cool enough that I could wear my not quite a tech "peace, love, run" shirt so a win win. I ran to the start and then they led us in some dynamic warmups and… what do you know the 5K felt good. Note to self, warm up. Stretch (I know this, I did this in marathon training, I somehow still don't do this). After going home for a shower and recharge, headed out to my favorite summer, Saturday spot with a book.
Sunday: Egg Rolls, Egg Creams & Empanadas Festival and a lovely meandering walk of the Lower East Side, Chinatown and SoHo. Quality time with friends for the win.
Week of June 18:
Monday: our office was closed in honor of Juneteenth and I decided to join one of the two runs that NYC Runs shared: Goldfinger Track Club with Coach J through the multi-layered history of Lower Manhattan. It was about five miles and a truly pace inclusive one. Amazing to be a part of such a powerful run. After a shower and recharging, went to Roosevelt Island for some down time. Not much of a sunset, but it's so peaceful ahead of a busy week.
Tuesday: First of three consecutive evening events. Wanted to walk home but the shoes were too cute to be comfortable. Oops!
Wednesday: got in some speed work (6×400) before another office day and evening event. The day always feels better when it begins with a run – I just have to remember that when I have a case of don't wanna first thing in the morning! Not quite on the paces that I want to be, but have to take advantage of a cool morning. We had to take new head shots as part of our rebrand and I had to do this as part of the hair taming. Thankfully based on the contact sheet, the real ones are better.
Thursday: June 30 is the end of the fiscal year for the city and therefore a lot of culturals, so it's gala season. NY4CA's was an amazing tie in with Pride honoring, among others, Qween Jean. I clearly was present at many of these events and had only the video, which is good. But my boss and I were laughing because at three consecutive events we forgot to take pics of ourselves. Even better about this event was the ice cream speak easy on the walk home.  Ice cream is totally a summer dessert.
Friday: had a dentist appointment, so in contrast to my usual Friday rest day, I ran commute in both directions. This mural, and the adjacent 9/11 one always get me. The day was overcast, so no need to head to the park for a sunset that wasn't so after a mani/pedi, I took my new book (thank you Deborah!) to the river and just vegged. I love what I do, but I also really appreciate the down time.
Saturday: Mo and I spectated Pride in the mud (oh so muddy, the best) and then I headed to Intrepid with my brother, sister-in-law and the minions. Nothing better. Perfect summer Saturday.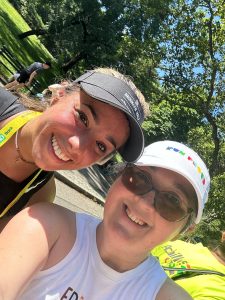 Sunday: ran to the finish and spectated Achilles which is always a treat. We whine about the hills in Central Park, and I always will, but seeing these athletes who face far more challenges than I do? It's humbling. Caught up briefly with friends who ran and then headed to a work event before hopefully part of the March.
It's going to be another busy week, but glad to get the runs in when I can. Life is not about perfection, especially when there's a summer full of stuff happening.