I was all set to get back into a running/weekly rundown routine, and then the Canadian fires smoke ate NYC. I could have run, but I mostly opted not to. It didn't feel good the one day I did, and running is supposed to feel good, right? The smoke did clear in time for the Women's Mini, which is always a ton of fun.
So in lieu of a rundown-essentially that above! – I'm linking up with Kim and Deborah to share my thoughts on the BOLDER Boulder-absolutely the most fun race I've ever done.
TL;DR: I loved it, and you should run it if you get the chance.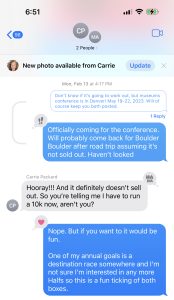 Even before it was confirmed that I was going to the American Alliance of Museums conference in Denver, a friend planted the seed about the BOLDER Boulder. When I registered, I decided to think about what else there was to see/do. This conference is regularly the weekend before Memorial Day and there's no point in flying home and then trying to figure out what to do. The last time I went, I extended it with a roadtrip through Alabama, Tennessee and Mississippi. This time under consideration was Vegas (been twice, but Garth, SIX) and then I realized where Yellowstone was and my decision was made. More on that amazing trip in a Travel Tuesday this week or next. It made for an "easy" (2000+ miles, loved every one) loop back to the Denver area on Memorial Day.
Not going to break this into the good/bad, because there was no bad. Maybe not enough super soakers and llamas? Yeah ok, that's the one negative.
Expo:
Registration was easy, and on doing so you could select whether to have your packet mailed, or to pick it up. I went with the latter as I had no idea at that point where I'd be and didn't want to chase it around hotels. With that in mind, and knowing I had race morning as a backup, I planned my last hotel "only" a six hour drive from Boulder in Vernal, Utah with plenty of time to get back to go to the Expo. Traffic in Boulder is bananas in general and especially on race weekend, so I made the decision to stay at one of the host hotels, which meant I happily ditched the rental car in the parking garage and met up with a local friend who knew the best lunch spot, and parking garage near the expo. Win all around.
The "expo" itself was small, especially for a race of about 40,000, but right on the Pearl Street Mall, which made for a fun hour or so of people watching, hydrating (Bundaberg Diet Ginger Beer for the win!) and just relaxing. While I had two off days in a row due to the drives back from Yellowstone, it was a nice mental off day as well after a ten hour drive the prior day.
The expo isn't a must do, but it's a plan I'd recommend especially if you'll be traveling leading up to race day. While I wouldn't necessarily recommend a week hiking as race prep, I absolutely do think the week at altitude helped with acclimation. After Yellowstone and Grand Teton, Boulder was closer to sea level 😉
Race Morning:
I'd mostly stayed on East Coast time the whole trip, so a 7:30 start was a non issue. I wasn't really sure how early I needed to be there, but giant race and NYC race security said 45 minutes would be good, especially since I didn't notice at pickup that my packet had no safety pins. That turned out to be about 35 minutes too early, but I'd always rather be killing time at the start than stressing. The walk to the start – which I scouted the prior evening – was less than ten minutes. Is the race hotel more expensive? I'm not sure, Boulder is expensive overall, but the convenience was worth every point I spent on it.
So while waiting for the race to start, I enjoyed the people watching. This felt like a race of ~500 rather than 40,000 with the seamless way the corrals worked. I didn't really need the pajma layer – but I was tossing them at the end of the trip anyway so might as well donate – but it was nice for sitting on a dirty curb. The handheld reusable water bottle isn't exactly new –  I've tried one before but am not very good at drinking from them – but I actually found it easier than holding a standard water bottle. Let's see if I use one going forward (spoiler: didn't even think to grab it for the Women's Mini). I realized the night before that I didn't have a belt, but between the pockets on my skirt and the zippered one on the bottle I was good for my room key, ID, credit card. Benefit too of not risking dropping those when pulling out my phone for a photo.
Course:
Couple more pics here.
Not that every race I do isn't a fun run (I'm not winning, so if I'm not having fun – why am I out there?!) but this is explicitly a fun run. Altitude, slip and slides, belly dancers, super soakers. Some of the negative reviews out there are that the "distractions" impact your time, which is true — but this isn't a run to race unless you're racing your prior time and/or are an elite on a different course. I would much rather visit with one more llama/Elvis/Pinocchio than finish faster. That's not everyone's race style, but if you're not going to enjoy the shenanigans of the BOLDER Boulder, there's probably no point in running it.
My race plan, such as it existed, was to run when I could, walk when I needed to. The IT Band had responded well to lots of hiking, but my legs were definitely not well rested nor was I perfectly adjusted to altitude. I appreciated the photo ops as natural rest stops, together with the water stops and super soaker stations. While it was relatively cool, the sun is definitely more intense at altitude so I felt warmer and was grateful for the hat. Running (v. recovering) in compression sleeves is a new thing for me this year coming out of the calf issue leading up to the NYC Half, and I hadn't done it for a 10K but thought it would be helpful with the altitude and I think they were.
Not pictured: jello shots. There were definitely healthy hydration options with Skratch et al being Boulder based and having pop ups in front of the store, but hey why not pretend to be in college again? And as the proprietor said: it's sugar, water and alcohol. What more do you need. I wouldn't have taken one if it wasn't mile 5 or so, but as I said about much of this race: I regret nothing.
Post race was fun to sit in the stadium stands and people watch. I wasn't able to watch the elites finish, but I got a late checkout long enough to linger. I wasn't actually hungry so the swag bag went to local friends. I bought the race pics, which I'd totally forgotten about, but I was glad to have mostly spotted and hammed for the photographers.
I spent more time (and money) at the post race expo, as you do. The hotel wasn't quite as close, but the walk back was a good leg stretch. Before leaving town to meet friends for a late lunch before my flight, I stopped at a Fleet Feet to donate the shoes. I said goodbye to my shoes scenically, but I was glad to donate them to a recycle bin rather than just put those beloved friends in the garbage. I love almost all Brooks patterns, but these were definitely the most fun.
Great ending to a fabulous trip. Would I run it again? On race merit, absolutely and I'd recommend it to anyone. But I don't know that I'd fly in just for it due to altitude acclimation and there being so many fun races to do. But if someone asked? I'd probably say yes in three seconds.