I don't even know where to start with this absolutely magical trip I just came home from. Yes, there was a good reason I was MIA, not just my usual blogging inconsistency. 😀
This is as much for me for my travel memories as anyone else, so no offense at all if this is TL;DR, which is probably is. That said, tour research was helpful for me so putting information here in case it's helpful to others. And it's good to go back to my blogging roots and domain name every few years. Also, yes. It's very much not Tuesday. Oops.
Mom and I dubbed this trip "40+3" because in 2019, we were planning a trip to Spain in April 2020 for my 40th birthday (November 2019). Somewhere in the COVID years, Spain turned into Italy and this finally felt like the right moment to plan the trip and have it happen, vs. another postponement. Mom & Bob are still trying to take a France trip originally scheduled for spring 2020 as well. The rules for our trips are typically somewhere neither of us has been, which is near impossible in Western Europe and mom has been wanting me to go to Italy for years, so rule breaking made sense. Plus are there any rules after COVID? I don't think so!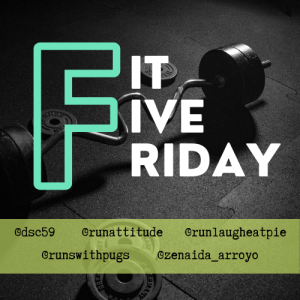 Linking up with the amazing folks of Fit Five Friday for five-ish things about the trip.
We've got FIVE incredible co-hosts, and we are ready to link up every Friday to share YOUR weekly fitness favorites! Join My First 5K and More, Running With Attitude, Run Laugh Eat Pie, Runs with Pugs, and Zenaida every Friday for Fit Five Friday! Who's ready for some fun?
Not a literal day by day, but some highlights of the trip and way too many photos, as if that's a thing.
Travel:
We made the decision to fly into Venice and out of Rome to save doubling back, and also that we didn't want to have to change. It's just a pain on an overnight flight. As someone who doesn't fly Delta often, I've somehow flown them four times this year. In order to sleep with a 7:30pm departure from JFK, I opted for 3-4 hours of sleep Monday night and that worked pretty well. It wasn't a solid sleep – flights never are! – but I rested and had very little jetlag to contend with. I very much appreciated the post sightseeing, pre dinner down time as Italian evenings run later than I typically do.
Given the inability in Venice to just uber somewhere, we made the decision to arrange airport (and train, for the departure) transfers with Blitz via our hotel and it was worth absolutely every penny. Not only did we not have to juggle suitcases into and out of cabs and water taxis, but they were able to get us through Immigration super smoothly. There's just something too about pulling up to the hotel via boat. Elegance. Given COVID relative lack of travel I'd been points hoarding and we were able to stay super close to St. Mark's, which was the perfect Venice location for the bulk of what we wanted to see and do.
Italian trains are an odd mixed bag. We took Freccia Rossa from Venice to Florence which had power ports and wifi, and then a local train from Florence to Assisi which… did not. While Italy isn't as long as I previously thought, the idea of going from Venice to Naples in ~5 hours was mind boggling. I loved European trains when based in Prague and nothing has changed that, although thankfully these seemed to be no smoking more than Czech Rail was at the time.
Venice:
When we started to plan Italy, I knew I wanted to see Venice. Some friends had been there recently and I adored their photos, and I also knew that it was important to see now given how much climate change is impacting the city. Yes, my seeing the Grand Canyon in drought has really pushed some other environmentally fragile areas higher on my bucket list because there's a really strong chance of them not being there, or not being the same. At the same time, I was cognizant of Venice being overtouristed and overhyped but Iceland and the Grand Circle Tour, there are just some things you have to do. It wasn't as crowded as I feared, helped by the fact that the trip was after most American schools were open, so it was mostly just Italian families and non family travelers.
There was so much we could have seen, and getting to see the ancient ghetto is at the top of my next time list along with DaVinci's Vitruvian Man (off view for conservation) but I loved all we did see. Highlights were the Bellini altarpiece at the Basilica dei Friari-you know it's a wow of a church/museum when Donatello is the 5th artist listed-and of course St. Mark's and the Doge Palace. My Venetian history is rusty so I'd forgotten about the "borrowing" of the horses from Constantinople, and standing in close proximity to 1800 year old statues is just, amazing. This is the tour we did, and I really appreciated the skip the line entries, especially when we saw the line as we left the Basilica. Small groups are my favorite way to see places, you get the insight without being part of a parade, or risk spending a long time with folks you don't connect with.
I loved cicchetti. Venetian street food. Basically crostini with a cross section of toppings, and of course spritz. It was allegedly founded in Venice so we had to have it a few times. I actually didn't have pizza and only had carbonara once, but spritz and gelati all day!
Florence:
I can't really say I saw Florence. We only had a day, really from about 9:30-5 between trains and prioritized the Accademia and the Uffizi for obvious art nerd reasons. Italy is well set up in a way American train stations aren't and there was spacious and easy luggage storage. A cafe at the station also had my first moment of muddled Italian. I was looking at the choices for croissants and saw one was miele. I know it's honey but had a moment of mixing it with maiale and while not a vegetarian, wasn't in the mood for a pork sandwich so I went with the guaranteed international happiness, cioccolatto.  Walking from the train between the two museums also meant we got to see the Duomo – gorgeous! – and the Palazzo and Ponte Vecchio, which were on my bucket list. I absolutely want to go back to Florence to see the inside of the Cathedral and maybe climb the bell tower and explore more of the Florentine history of Michelangelo and Dante. Currently reading: Diannne Hales' La Bella Lingua and loving how she's using the language to explore the Italian culture.
Umbria:
After three days of zoom zoom zoom, which I loved, it was nice to be based in one place (Bettona) for four days with a friend of mom's who owns a B&B. Some folks just stay, others tour with him and we did the latter as it meant we didn't need to rent a car and it was fun to have some local insight. We saw:

Perugia, I absolutely loved the underground tour and the Rocca Paolina. The city has literally been built upon itself century after century.

Cascata delle Marmore

, the oldest man-made waterfalls, which date to 300 BC. The living history in Italy was amazing and while we didn't have time (and it was too hot) to hike up to the top of the falls, I loved the lower views.
Todi, whose Piazza del Popolo was one of the most spectacular I saw, and that included Rome's of the same name
Castiglione del Lago, after days of rocca and fortezas, it was nice to see the remains of a literal castle on Lake Trasimeno.
Assisi, probably my favorite of the non cities. I was raised Catholic but no longer am, but there was just something awe inspiring about this city and St. Francis' churches. Do I think they're his bones in the tomb? No. There's a lot of living legend in Italy but I felt the same as I did in Israel with living legends. I'm not a jewelry person, but I got this necklace, which is the rose window at the Basilica as I could have spent hours staring at that. I love cultural heritage, I was actually taking that course on my trip to Italy in 2007, and I really feel like Italy just understands that. I also really loved how close the ancient history is to the surface here with the preserved facade of the ancient temple to Minerva right in the main piazza.
We also had short visits to Montefalco, including more of St. Francis' history,  Spello's Mosaic Museum, Spoleto and its acqueduct. I loved all the little towns of Umbria and can totally see why mom's friend has settled there.
Rome:
We arrived in Rome from Bettona Wednesday morning and I was butterflies. This was almost definitely the piece of the trip I was most anticipating, and what if it didn't work? Spoiler: it was amazing!
Because the main reason we were going to Rome – where both Mom and I had been – was because the Vatican was closed due to a holiday, then President Bush's visit my last time and it had been bugging me for 17 years, we opted to stay on that side of the river at the Star Hotel Michelangelo. As the travel version of Murphy's law goes, we ended up doing a lot of Rome sightseeing so this wasn't the most convenient choice but it was a good, clean spot and one I'd recommend for folks who want to be near to the Vatican.
En route from Bettona, tickets came through for the Borghese Gallery and… wow. Between the sculptures and paintings, I could have spent a day there. As with the Uffizi, you can't see everything but I'd much rather get a taste than none at all. After a hop back to the hotel to check in and change, we headed back into central Rome for one of my favorite tours–the historic sights via golf cart! It's a great way to get oriented without wearing your feet out between locations. I can't pick one favorite, but the Parthenon and Spanish Steps were probably my favorite. Especially the latter at sunset. Just a majestic city with history so tangible. For next time I would love the chance (and time) to go inside the Parthenon. One of the things we also ran out of time for was the spot where Caesar was assassinated, which opened this summer. While we didn't get to visit, I did see the spot which was pretty cool. Less in a morbid way but more in a "wow, how do they know the spot?!?" sense.
Thursday was the BIG DAY in Rome. Well technically, Vatican City. This is the tour we booked because I am allergic to lines, especially in the heat. Even with early access, the Vatican Museums are absolutely mobbed with people. I didn't fact check it, but the guide said they get 30,000 visitors per day, and it certainly felt it. Still, they had a good flow with the introduction to the Sistine Chapel and its detail outside to prepare us for what we'd see and where to look, and so much fascinating art in the rooms leading up to it. I especially loved the lapis lazuli in the Greek cross room. The Chapel itself? It's almost beyond comprehension. No photos and minimal talking allowed and it was just… WOW. It was super crowded but absolutely worth the 17 year wait. From the chapel, we went via a private passage which skipped the bulk of the line at St. Peter's, which I appreciated as it was now midday and full sun. Bernini's Baldachin over the altar is just magnificent (yes, I'm running out of adjectives) and there are no words for Pieta besides dismay that we live in a world that requires it to be behind bulletproof glass. We did not spend as much time in St. Peter's as allotted as it was allowed as there is a lot to take in, and it was hot. If I return to Rome, it will be in the cooler months as I'd love to see the dome up close, and maybe the papal tombs. That might just be a little too creepy though!
After a break in some AC, we met up with a cousin and her family who took us to see the one thing the golf cart tour hadn't covered — the Colosseum. I saw it in 2007, but to be in Rome and miss it? Nope. So when she offered us the choice of Colosseum, Trevi or Piazza Navona, there was no question. We spent a wonderful couple of hours together and I got to see the Forum and Colosseum in changing sunlight and enjoyed drinks – spritz, of course, overlooking the remains of the ancient city. Magic hour personified.
Before we left for Riccia, I had one more Rome bucket list item.  Runrise! When else would I get the chance to run between two countries?! Plus there's just something magical about watching a city awaken. I did the gallery to avoid weirdly skewed inline, but can't resist it here.  Despite having walked part of the route the day before, I was a little disoriented geographically, so I didn't get a straight runrise, but watching it from the river and the Castel Sant'Angelo was just absolute magic and peace. Lots of folks getting in their miles ahead of Berlin/Chicago/NY so plenty of runners and no safety concerns despite being in an unfamiliar city. Running is the perfect way to see a city.
Riccia:
The perfect capstone to this trip, meeting cousins for the first time. Mom got in touch with them about a decade ago and has visited with them a few times, but they haven't been to the US and I hadn't been to Molise. I admit, I was more than a little nervous. I speak Duolingo Italian. But I was excited. There was something about seeing the town where Mom's father's family is from. We stayed at an adorable little B&B and were met there by one cousin, which evolved into four by the time we made a stop for gelato and 14 for dinner. We ate. We laughed. We cried happy tears over many meals, a grape festival for which the town is known, met two other visiting Americans (who of course lived 5m from Mom & Bob's place in Florida!) and explored "my castle". The hugs at the B&B after the Festival and before we left at 6am to drive back to Rome for the return flight were strong and teary. Do I feel amazingly strong ties to Riccia? Not yet. But I can't wait to go back.
Running:
I only ran a handful of times while in Italy.  Once at the hotel in Venice when I was awake early, two times in Bettona where there was a flat route to the cemetery, and my personal favorite, the aforementioned Rome/Vatican City runrise.  Bettona and Riccia were super hilly, would have been a great challenge had I been motivated.   I was OK with this, it's why I ran 8 and 10 before I went. Sometimes life isn't about the runs.