I love Tuesdays on the Run. And I love having the "cheat sheet" of the topics early so I can get these written at the weekend. This week? If I had $1000 to spend on running I'd…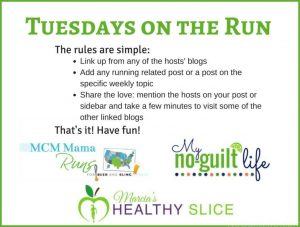 Linking up with: Erika at MCM Mama, Marcia at Marcia's Healthy Slice, and Patty at No Guilt Life.
[bctt tweet="if a had a million dollars, or at least a thousand #RunTheYear" username="travellingcari"]
One thing I know for sure, it wouldn't be clothes or sneakers. Why not? I've tried a couple Under Armor options and didn't find I liked them any more than RBX. Lululemon doesn't appeal. And to be honest, I can find the former at TJ Maxx. Sneakers? I like the brand I wear and don't have where to stash more.
So is it pure running costs, or could it be a racecation? I'm taking liberty and going with a mix of the two. Plus um, blog name? 😀
A couple of years ago when I knew I needed to replace my former laptop and was trying to decide how to finance it, I stumbled upon the 52 Week Challenge. It's basically the old Christmas Club wherein you put money aside each week. Since then I've used it for my laptop, some travel (including the Fort Lauderdale Half racecation), miscellaneous needs and holiday gifts for the kids in my family. I try to spend it on fun things; or fun necessities, not bills.
But if I could spend the majority of that $1300 on running? Whoa. In no particular order:
I wouldn't blink at the entry fees for NYC Marathon or Half. Together they're about $500. I'm still going to do them, but it would be nice not to raid my regular savings account
I might do Cherry Blossom again. I loved the race experience and the race itself is a very reasonable $45, but the related costs are high due to cherry blossom season. I probably won't repeat this anytime soon as I'd rather experience races in other cities.
I wouldn't blink about whether I was accepted into the London Marathon lottery. No, $1,000 won't pay for a(nother) trip to London, but it would be a nice offset

I'd do an exotic racecation. What's exotic? My perception is so skewed due to travel I've done, but probably an island somewhere

I might do one of the Vacation Races series. The altitude on those concerns me more than the cost, but they're still not cheap. I'd also pair it with a vacation more broadly, because I'm a complete National Parks nerd
While I'm not particularly trying to do a race in each state, I'm about 13 states from 50 and it would be fun to tie some of those state visits into racecations
Can I spend it on someone else's running? Have some friends fundraising for fall marathon races and I'd like to support some at a greater level than I currently can.
Gadgets? Maybe. But I just bought myself a Garmin so that doesn't appeal right now. If it was after this morning's run with my watch hiccuping without a Garmin on the way? Maybe.
And yes, I have Bare Naked Ladies' If I Had a Million Dollars … in my head. Don't you?