9,647th blog "redesign" in the last six months. None intentional, but I think comments finally fully not broken. Whee! It was driving me bonkers not to be able to tell at a glance if I'd answered a comment.
Another week of Quarantime. I think it's nine weeks, but I've completely lost track.
Another week where I'm really grateful for the people in my life. My friends, my boss and our teammate who bought me a cook book, all of you both live on the Zoom and on the posts and a friend I was able to socially distance run "with". Life is weird, but for me personally, generally OK and I'm grateful for that.
Not so much for one of my containers…
Meals for the week: pulled pork for lunch, and a veggie modification on MyForkingLife's modification on Rice a Roni. I got hooked on that a couple of weeks ago but a) burned it b) it's too salty. Other adventures in cooking: melted rubbermaid, pancakes (apparently now a Wednesday tradition), and the winner, by far, is the white wine salmon. I am so grateful to the Instant Pot for teaching me I can make more than I ever thought I could.
I'm focusing on the cooking, because this week was kind of a running fail.
My own doing — I did two 5Ks with only a day between and yeah, dumb. The knee was feeling OK in the second run until it was too far to turn back and have it any shorter. Lesson learned, revert to walking.
I think we've all had those have to laugh, or we'll cry moments throughout this. My personal favorite this week? My Subscribe & Save order coming without floss picks. I have an endless supply of regular floss as my dentist gives me floss, travel paste and a toothbrush every appointment, but it is just impossible to effectively get between back molars without being a contortionist. Luckily Target had floss picks in stock for in store pickup.
The Amazon order did have Baby Foot. I might not be going anywhere in my sandals, but at least I won't have winter feet.
Weekly run down with Kim and Deborah:
Mother Nature tried to make me miss a Monday: the weather was blowing in and out like crazy. Well, that's only half true, I was complicit in that my snooze was too close and bed was too comfy on a chilly morning. I could only go as far as the close 7-Eleven and not be late for work. Some of the Starbucks are starting to open and I hope Dunkin follows suit. I miss iced coffee. Meaningless in the grand scheme of things, but I know you get it. Work ran late but I did get out for the 7P clap and at least get in some steps.
Tuesday: wanted to run in the morning, but knee/hip wasn't ready so I did my longer morning walk to the Met and for coffee on the return. I had some time to stretch and roll the knee during the day and headed out after work. In hind sight,  I should have walked but the sunset sky was just magic. With all the uncertainty in the world, we need some pretty skies.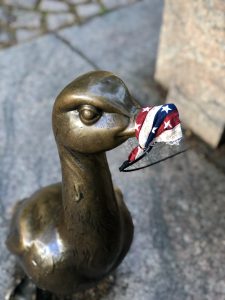 Wednesday: too nice of an evening to stay in. Not getting political or making a mask comment here, but this just made me chuckle. Takes be kind to your web-footed friend to a new level. Hans Christian Andersen is next to him and I had to chuckle at a Danish writer having an American flag mask. Just a beautiful evening for a walk through Central Park and reminded me how lucky I am to call this neighborhood home.
Thursday: a few years ago, a friend and I realized we lived half a block from each other. Even with the pandemic and us both working from home, we hadn't made it out for a walk. Finally changed that and had a lovely walk along the river before heading down to Target for floss picks. This sign? One of the personal trainers working one on one with clients along the river. Even without running I've avoiding the Quarantine 19 so far, but the food choices could be better. Can the dragon eat calories?
Friday: Fridays are usually terrible for steps, but it was in the mid 80s and I went on a hunt for salmon and got in a nice walk after work. The later sundown is a lovely treat. It's still not super feasible without bus service, but I'm going to fund some way for my UWS sunsets this summer. Perfect reading spots.
Saturday: farewell Skirt Sports, you introduced me to so many good people. I wasn't familiar with them as long as most of you, so I don't have the clothing collection. People > stuff any day in my book. Elizabeth and I saw each other at least weekly in "normal" times. Either to run, or to chill at her apartment. Neither of those have been in the cards for obvious reasons, and we were so excited to socially distance "run" the Skirt Strong 5K.  I actually managed to run to our meeting spot but then the knee wasn't so happy after stopping, so we mostly walked and took in a beautiful morning in the Park. A nap and then a lovely Zoom with so many of you. The day's structure reminded me a lot of marathon training and how wonderfully long those weekends felt. I need to get back in that habit, timing wise.
Sunday: I'm doing something. I just haven't made it out of PJs yet.
I can't believe next weekend is Memorial Day. March felt like 80 years, but I blinked and missed May. I'm not really sure what a three day weekend means in current times, but I'm hoping for some fire escape reading at least.