I'm ba-ack.
And no, this isn't going to be three weeks of run down because I'm lucky I remember on a normal Saturday what I ran on Tuesday.  Some notable moments from my sojourn as I link up with Kim and Deborah: (and no I have no idea why my font changed colors twice).
a quick meetup on my drive south. Weird times make those even more wonderful. Maybe on the third time we'll even remember to take a photo!
I ran in three states, North Carolina was new to me and despite being my coldest run yet, was absolutely stunning. I was grateful to Deborah's RunBet to get in a run before day two of the drive.
I ran 11.23 KM to the beach on my birthday, which was a wonderful first. Also a first, the wear something new on your birthday being a bathing suit.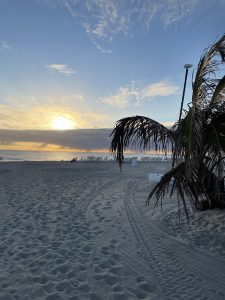 Beach runrises are the best.
I finally got to wear the shirt I bought for a Turkey Trot I never ran a few years ago. So good to run "with" so many of you.
I did not regret rarely looking at my laptop while out of town. Alas this means I'm about three weeks behind reading. EEK.
I was fried. Nothing wrong, just 2020 and I made the decision to just let all the things go for a month. No musts. I realize that came from a place of major privilege and recognize it's not an option for everyone. I am grateful it was one for me and I am feeling recharged.
I ran 80.59 miles in November. Yes, I looked at the mileage for the last day so I didn't end up short.
for the year:
4,322,681 steps
1918.41 miles run/walked
710.24 miles run
I'd like a 90 mile month to hit 800 on the year, but that is unlikely with post-travel quarantine restrictions, so 750 is just fine. Wherever I end up, I'm thrilled given the IT Band issues the first half of the year… and 2020.
*HUGS* too all who need and here's to a strong month before we kick 2020 to the curb.