I love Tuesdays on the Run. And I love having the "cheat sheet" of the topics early so I can get these written at the weekend. This week? Fall Running Plans.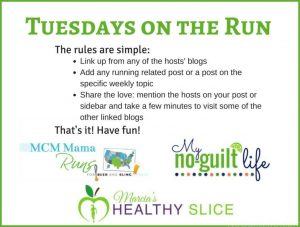 Linking up with: Erika at MCM Mama, Marcia at Marcia's Healthy Slice, and Patty at No Guilt Life.
I don't have any fall running favorites, other than the weather. I cannot wait for more seasonable temperatures. I did two races last year, and will be repeating one. More on that later. Non-running favorites? The leaves. One thing I really missed about the northeast when living in Japan and Australia was the four seasons, especially fall. It's just magical. The colors, the smell. I enjoy getting silly for my birthday/Thanksgiving but that's secondary to the colors.
My fall running plans are:
The maybes are schedule questions, but I'd really like to run Grete's Great Gallop even though I hate the Central Park 10K course and have been hill-avoidant all summer. It sounds like a wonderful race and a way to honor a great woman. I did the Poland Spring kickoff last year and aside from hating the shirt (still do, still an issue with women's shirts), I loved the race. I'll probably end up doing this again if I'm in town.
For the confirmed races:
I have mixed feelings about the Bronx 10 miler. Training hasn't been what I wanted it to, but I think I can run ten miles. It starts at Yankee Stadium! I like the idea of running down the Concourse as its architecture is stunning,  but I'm not sure I'll feel the same on the loop back. I'm thinking of running with a pacer, but we'll see.
I was bummed to get closed out of Race to Deliver last year and signed up as quickly as I could. Something about giving back Thanksgiving week, and especially around my birthday. Speaking of Thanksgiving, hoping to do a Turkey Trot somewhere that weekend.
Ted Corbitt was my first long race and it still has a special place in my heart. I loved it, even with a sore hip and even in the snow. I need to get it together with hills this fall, but a variation of this course has become my 15K loop when I go long in Central Park. I want to beat last year, but beyond that don't have specific goals this far out.
On the not running front:
the one I'm not repeating from last fall is the Squirrel Stampede which has been cancelled in favor of rescheduling the August rain out. I was looking forward to running Roosevelt Island again, but it's the same weekend as the Bronx so I wouldn't have been able to either way
I was tossing up the South Nyack 10 miler as I remember going to it as a kid, but after my fall I realized what a challenge the course was and that I probably wasn't ready. It didn't hurt that I got Giants' tickets for that day either. So next year, maybe.